Entertain your guests this Christmas.
The classic wine and cheese pairings that we have today are the result of a long history between cheesemakers and sommeliers. The pairing of wine and cheese is carefully constructed to create a sensational taste experience.
Wine and cheese pairings follow a certain science. The flavor profile of both the wine and cheese is considered and then those that contrast with, or enhance, each other are matched together. The goal is to use the wine and cheese in a complimentary way to intensify the flavors of both.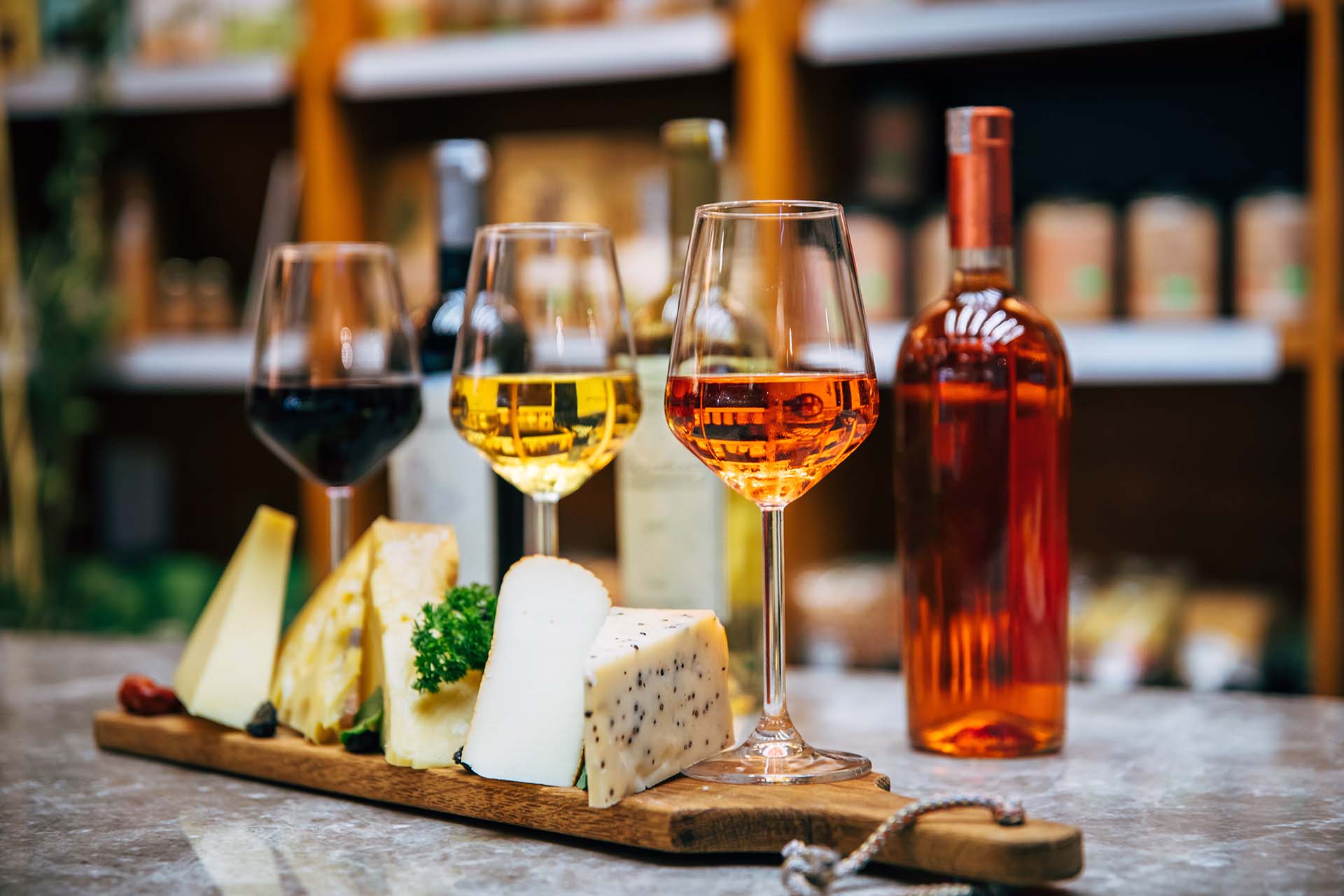 We have created this simple guide on wine and cheese pairings to take the stress out of hosting Christmas dinner parties.
Truffle Cheese and Pinot Noir
Through using either truffle shavings or truffle oil during the cheesemaking process, earthy and nutty flavors are added to the cheese. Here, the flavor of the truffles should take center stage and not be overpowered by the wine accompanying it. We suggest a soft and mature wine like Pinot Noir to complement your truffle cheese perfectly.
Blue Cheese and Mulled Wine
Mulled wine is a festive favorite in many countries. This wine is laced with strong flavors and aromas, leaving a sweet and fruity taste in your mouth. These flavors are best paired with strong creamy and salty cheese. Blue cheeses are perfect for this occasion. You can choose from Stilton, Gorgonzola, and Roquefort to complete your festive charcuterie board.
Gruyere and Pinot Grigio
Pinot Grigio is a wonderfully crisp white wine, with fruity notes throughout. As this is also a drier wine, it will be best complemented by creamy, rich, and salty cheeses. A great option is Gruyere, with its earthy and nutty flavors, the high-fat content of this cheese will complement the crispness of the wine perfectly.
Camembert and Prosecco
Prosecco is a delightful sparkling wine that reigns from Italy with vibrant and fresh flavors. It brings the notes of fruit to your glass and is fairly acidic. To offset this acidity and bring forth the freshness of the wine, a full-bodied, soft, and creamy cheese will work best. Camembert, with its earthy tones and creamy texture, is a classic companion to a sparkling glass of Prosecco.
Reblochon and Chignin-Bergeron
Reblochon is a creamy French cheese with mild fruity flavors with the initial bite and a wonderful nutty aftertaste. This cheese is rich and creamy and will pair very well with a crisp fresh white wine like Chignin-Bergeron. Reblochon also adds beautiful color and texture to any cheese plate.
Making your Festive Feast
A general rule of thumb is that full-bodied, heavier wines like dark reds pair well with strong cheeses like blue cheese or aged cheddar. Lighter-bodied wines like Riesling and Champagne pair well with softer creamier cheeses like Brie or Camembert.
You can find all the wines and cheeses listed above at Barnes Pantry, just in time to create the perfect Christmas celebration.
Have a question about our wine range? Visit us in store to learn more, or email us hello@barnespantry.co.uk